Post by aldewitt on Aug 31, 2018 6:43:10 GMT -6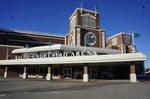 Looks like school 10 will be Augie Kiyote. If successful The others might move up and that might be the plan?
Ps. Big motivator for moving FBS is the significantly higher guaranties
" I'd say this season we're the best of the teams that were 3-8 last year, and have a shot at being in top 25 after homecoming! " - BarnWinterSportsEngelstad, UND football fan.

I'll have to say dragging along my quote keeps my memory fresh.
Auggie should help the Summit.
You kept the funny part of your quote but edited out the facts: USD 45 - UND 7, but I agree with you about Augie and the Summit.
I saw a bit of the UND football game last night against arguably the worst team in all of D1. By the looks of the attendance and the play on the field UNDs budget problems were explained: not many are interested in watching an underfunded football team. I was more convinced than ever UND is a candidate for Summit non-scholarship football.
If there is to be regional expansion of the Summit Non-scholarship football is the only answer for schools that don't have the budgets to compete but want to keep the game while playing D1 sports. Those schools in our region are mostly the D1 hockey schools that are classified D2. Augie, without hockey, is the exception.
UND was seen by the Big 10 as just another D2 sponging off their prestige and was pushed out with the other D2s. Proof positive there is no place for us to go because nobody wants to share their money. We have to build our own leagues, with our rivals in our region and make our own money.
it was always budgets that kept the old NCC schools from moving up. The hockey schools stood firm in their opposition. Eventually markets grew and so did budgets until a few could clearly see the way. Now other schools are beginning to experience this growth and the desire to participate. As they grow into D1 as Augie seems to be doing we have to embrace them.
Moving all of the D2 hockey schools into the Summit forming a Summit hockey league would save costs over running a separate hockey league. It would provide legitamacy to their programs as they compete in all sports under the same conference flag as the Big 10 insisted it do. These schools will have trouble funding football but non-scholarship would give them an option in the Summit making the move more realistic.